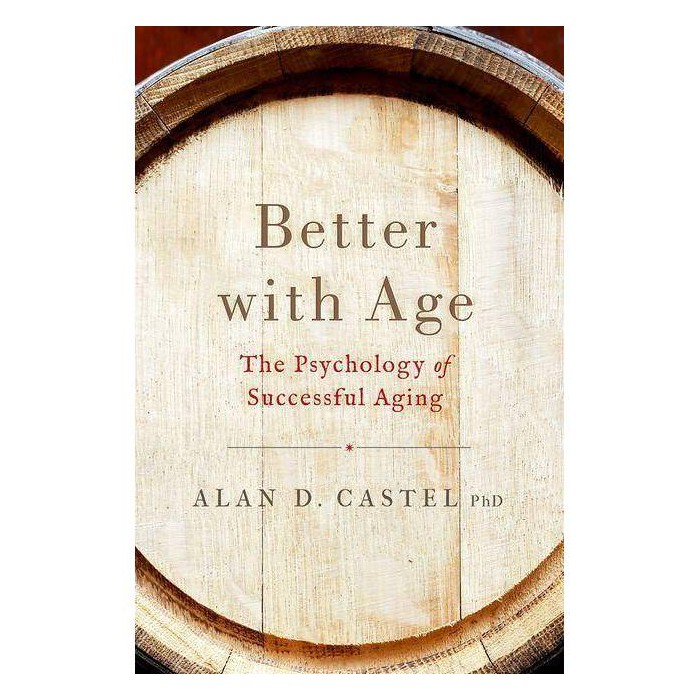 Shipping
Free standard shipping with REDcard
About this item
Specifications
Sub-Genre: Cognitive Psychology & Cognition
---
Publisher: Oxford University Press, USA
---
Street Date: August 29, 2018
---
TCIN: 77765384
---
UPC: 9780190279981
---
Item Number (DPCI): 247-05-3528
---
Description
"A highly readable, engaging and worthwhile book." --
Paradigm Explorer
"This author's text promotes a positive approach toward aging, buttressed by recent research and interviews with famous older Americans ... Recommended." -- C. J. Jones,
CHOICE
"There is no single formula to successful aging, but UCLA psychology professor Alan D. Castel provides a comprehensive and practical guide for shaping a life that is joyful, productive, healthy and meaningful. He debunks negative myths and self-defeating mind-sets about aging ... He reviews research studies that suggest that many people are happiest between the ages of 50 and 70 - sense of contentment resulting from some combination of a lessened financial burden due to an emptied nest, the opportunity to do something new and different in retirement, and a sense of gratitude for being able to look back on the joys and accomplishments of a lifetime. He provides compelling evidence that staying active physically helps us remain sharp mentally. Perhaps his most important advice is that you're never too young to develop habits that can help sustain healthy aging in the future. --
Wall Street
Journal
"Reading
Better with Age
, you will regret not having read it at an earlier age. Professor Castel combines the wisdom of remarkable people he interviewed, with the latest research findings, to provide a masterful guide to become better with age."
--Moshe F. Rubinstein, Professor at UCLA
"Alan Castel, a leading thinker in aging research, has crafted a readable, engaging, and informative book that offers a much-needed portrayal of successful aging. He overturns long-standing negative views of aging with empirical evidence and provides a more even-handed account of aging at this point in history. Most importantly, Castel inspires readers -- young and old -- to pursue deep satisfying lives at advanced ages."
-- Laura L. Carstensen, Ph.D., Professor of Psychology at Stanford University and the
Fairleigh S. Dickinson Jr. Professor in Public Policy as well as Director, Stanford Center on Longevity
"This great book is about a subject that affects everyone of us. It's full of practical suggestions. It's clearly written: unforgettable examples, no jargon. I guarantee that you will find it fascinating, and that it will change your life."
-- Jared Diamond, Professor of Geography at UCLA, is the Pulitzer-Prize winning author of Guns, Germs, and Steel
"Alan Castel's informed and informative writing style translates the latest science into an accessible inspiration for successful aging. For everyone who strives to live better longer and gain the insights of the who's who of successful agers,
Better with Age
is a must-read."
--Gary Small, MD, Parlow-Solomon Professor on Aging, Director, UCLA Longevity Center and co-author of 2 Weeks to a Younger Brain
"If you think a book about aging can't be a fun and engrossing read - think again. Alan Castel's
Better with Age
blends cutting-edge research with personal accounts from well-known Americans to create a roadmap for the later years. This engaging and inspirational book should be read by everyone who wants to know how to ensure a happy and healthy old age."
-- Karl Pillemer, Professor of Human Development, Cornell University and author of 30 Lessons for Living: Tried and True Advice from the Wisest Americans

"
Better with Age
is a wonderful book, both highly informative and consistently entertaining. Alan Castel seamlessly combines cutting edge research and fascinating interviews to challenge longstanding myths about getting old and replace them with valuable insights into the secrets of successful aging."
-- Daniel L. Schacter, William R. Kenan, Jr. Professor of Psychology, Harvard University, and author of The Seven Sins of Memory: How the Mind Forgets and Remembers
"This evocative, compelling, insightful, thought provoking, readable, comprehensively researched book is a stunning celebration of not just aging but of all of life. As presented: age is no better or worse than youth, the 80's or 90's no better or worse than the 20's or 30's. Age is one of the phases of life, but like all phases, it must be mindfully lived differently. This symphony of life has been composed from a massive quantity of disciplined studies and powerfully expressive scenarios from real lives such that the reader can design custom tailored optimum phases for themselves. If only enough people would engage this thinking, the trajectory of the human species would be elevated into a new realm." --
Story Musgrave, loving daddy to seven children, ages, 57 to 11, grand-daddy to many, student of life, professor, pilot, trauma surgeon, astronaut on six flights
From the manufacturer
No information loaded.