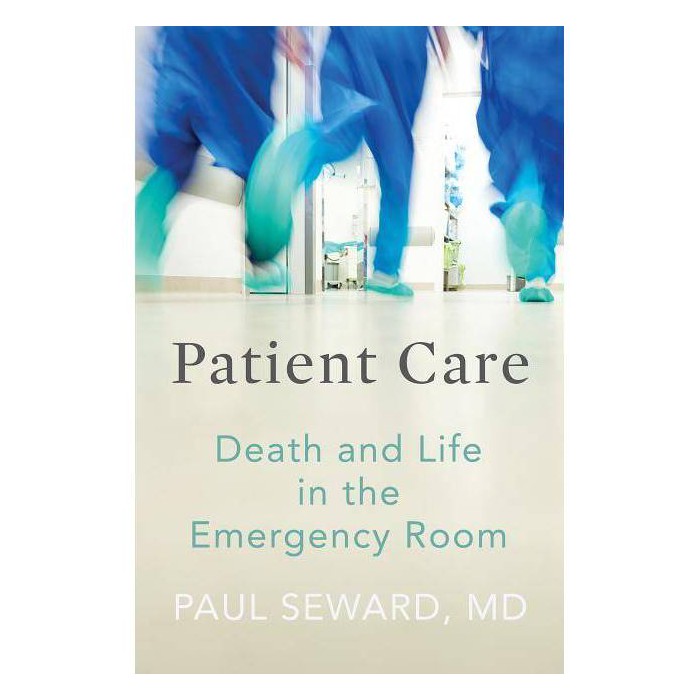 Shipping
Free standard shipping with REDcard
About this item
Specifications
Genre: Biography + Autobiography
---
Sub-Genre: Medical (incl. Patients)
---
Street Date: July 3, 2018
---
TCIN: 53485833
---
UPC: 9781936787883
---
Item Number (DPCI): 248-73-2947
---
Description
Praise for Patient Care
"As a respected physician for over 50 years, Dr. Seward regales the reader with slice-of-life vignettes that both illustrate and educate us about myriad aspects of medicine including both the physical and emotional ones. Not only is each case a bit different but there are often unusual complexities involved no matter how routine a set of symptoms appears to be. . . . Patient Care: Death and Life in the Emergency Room is an unusual memoir readers will not forget. If one is unfamiliar with emergency medicine, it will be an educational experience told with enough real-life drama to keep one interested and may further an interest in the field." --New York Journal of Books
"Recalling remarkable cases--and people--from a career launched in the first days of the emergency room (ER), Seward leads us through suspenseful diagnoses and explorations of anatomy. . . . Patient Care is a reflection on a lifetime of cases--and the ethical, scientific and all-too-human complications that arose." --Tacoma Weekly News
"Paul Seward's half-century in the emergency room has yielded a bounty of stories illustrating the joys and frustrations of his trade. The 21 friendly, well-carved vignettes he shares in Patient Care penetrate the mysteries of emergency medicine while underscoring the compassion, skill, and dedication of the modest practitioner/author. . . . Whether describing the obstinacy of patients, the brave faces worn by worried relatives, the technical aspects of repairing injured bodies, or the elation of helping potential catastrophes end well, Paul Seward fills his attractively written narrative with authoritative detail, strong emotion, and a precise sense of place." --Washington Independent Review of Books
"Seward writes clearly and explains complicated medical conditions with skill and a sense of humor, providing the lay reader with enough information for a clear understanding of the situation and his actions without drowning the reader in details. . . . Seward educates and entertains all of us with his new book. Non-health care professionals will emerge with a better understanding of how the ER works and perhaps how to better navigate that complex and unexpected setting. Doctors will emerge with a excellent examples of how to better care for and care about their future patients. For it is in this caring partnership between patients, their families, and their doctors that the highest quality care can be delivered and experienced. This is an excellent book." --Bennington Banner
"In short chapters that vary in tone, Seward offers readers a view inside those curtained-off cubicles where life-or-death decisions are being made every day. Some of those stories will produce laughs . . . or a lump in the throat . . . But Seward doesn't just tell patient stories in a folksy manner. He also offers insight into what doctors and nurses are trying to accomplish in the emergency room, often the first point of contact for many patients entering the hospital . . . Seward's faith in the care that the emergency rooms of America provide is eloquently expressed in this lovely memoir." --Signature Reads
"Seward's engrossing and approachable memoir plunges readers into the unpredictable life of an emergency-room physician. . . . His humble recollections are sad yet joyful, moving yet lighthearted. Seward's memoir is easy to read, just the right length, and packed with stories that will capture readers' attention. In the increasingly popular medical-memoir genre, this one stands out." --Booklist
"A fascinating and engrossing experience useful for both medical professionals or anyone with even a casual interest in clinical life. The common thread they share is the unconditional compassionate care extended by a seasoned physician who put his heart and soul into every human encounter. A volume brimming with humanitarian lessons in medicine and life alike." --Kirkus Reviews
"Dr. Seward's debut memoir, Patient Care, is a fascinating journey through a profession shrouded with mystery." --Paul Ruggieri, MD, author of Confessions of a Surgeon
"Reading this book is like a fireside chat with your favorite uncle, if your favorite uncle happens to have been a venerable ER doc with a thousand stories of our collective human struggle--stories of life and death, humor and heartache, some harrowing, many haunting, often with a surprise you didn't see coming. Set aside some alone time and let these pages slip by as effortlessly as Seward's prose." --Bud Shaw, MD,
author of Last Night in the OR
"A generous, compassionate book about what it is to be human and what it is to care. Paul Seward writes in language so clear and compelling you can see straight through it and into the beating heart beneath." --Kate Cole-Adams, author of
Anesthesia
From the manufacturer
No information loaded.